A winner podium can be the perfect victory pedestal to add to any kind of event, giving you a set place for people to show off their victory – whether a round of one game or a weeks-long tournament. Podiums are perfect for an award ceremony, an exhibition, sporting events and more! Whether you rank bronze, silver, or gold, you can stand proud on a bespoke podium in Greater Manchester.
When you want to present your champions with a prize, there is no better way of putting the spotlight on the winners and celebrating their success. Our stage podium options are some of the best in the UK, offering a range of pedestal options to suit your needs.
Why Use Us?
We are the leading stage podium experts in the UK, boasting over 20 years of experience creating stage and podium systems. Our modular staging systems have allowed us to work in various fields, including the world of stage podium design in Greater Manchester.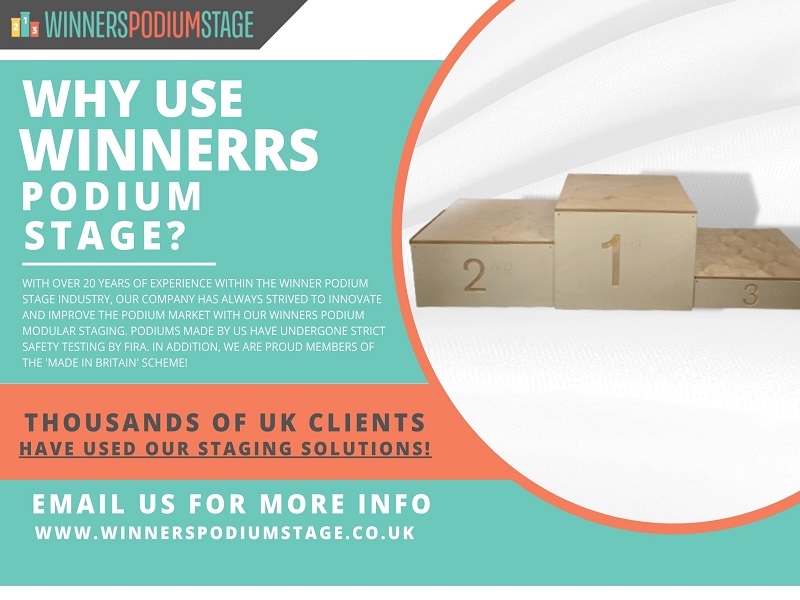 We can offer some of the highest-quality pedestal and stage designs on the market, aiming for safety, quality and reliability first and foremost. Our Frames have undergone strict testing by FIRA and are certified to BS EN 6399-1:1996 and BS EN 15372:2008 level 2. We're also a member of the Made in Britain Scheme:

Benefits of Using a Stage Platform
Our stage modules are perfectly suitable for use as a podium in Greater Manchester, along with being:
Compact, portable, and easy to stack and store away
Light and simple enough for even a child to assemble
Sturdy, hard-wearing and secure
Designed to be reconfigured in hundreds of ways
Perfectly flat, with no holes or bungs
No tools are required for assembly/disassembly
It can   be stained as required; a reversible carpet finish is also available
Winners' Podiums for Sale
We can offer numerous options for sale, letting you buy a podium and keep the full rights to how you use it: no rental time limit. Contact our team of stage platform experts in Greater Manchester if you want to purchase a cylinder podium for your sports awards.
Winners Podiums for Rent
If you prefer a rental for a temporary event or a one-off pedestal to mark the first place, we can provide hire options for many of our winner podium choices in Greater Manchester.
Cost of Winners Podium
The average cost of a winners podium in the UK market is about £1,200 to £3,000, although prices can sometimes vary as far as £500 to £5,000 in Greater Manchester.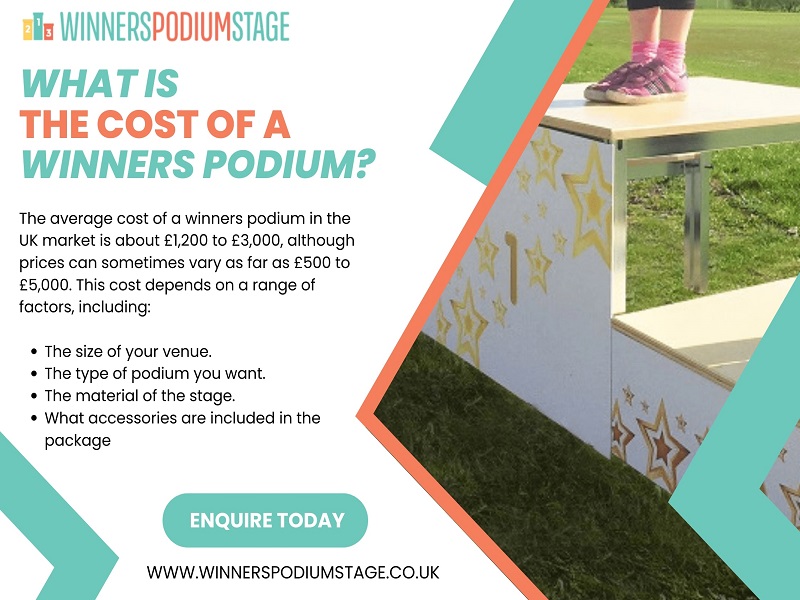 This cost depends on a range of factors, including:
The size of your venue.
The type of podium you want.
The material of the stage.
What accessories are included in the package
Award Podium Dimensions
The total dimensions of our award podium stage are 540mm x 2250mm.
This includes a 540mm x 750mm first place, a 750mm x 750mm second place and a180mm x 750mm 3rd place.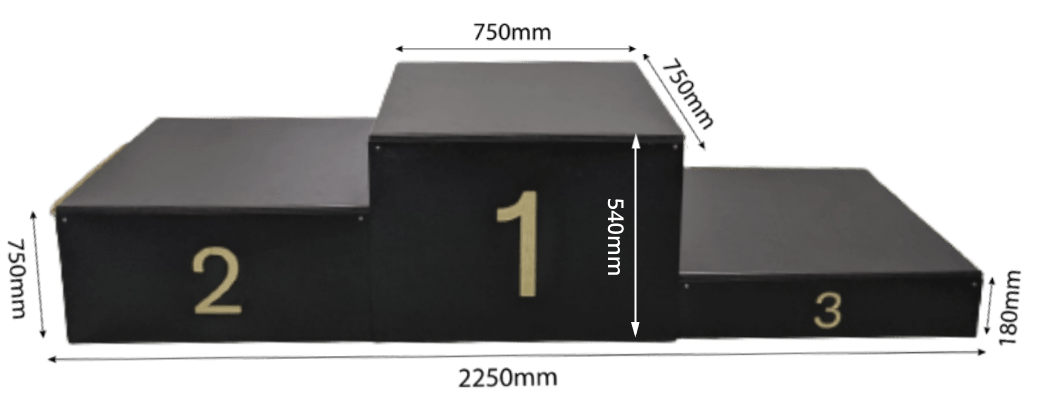 We recommend these dimensions as they allow more than one person to stand on each podium if there is a joint winner.
Most winners podiums do not allow for this, but it is something to consider when used in schools and sports clubs.
Winners Podiums for Schools
A winning podium for a school sports day or event can be a great investment. Not only does it serve as a sign that you take your sports seriously, but it means that you can take a proper photo account of the winners – each in their dedicated place.
Advantages of Our Winner's Podiums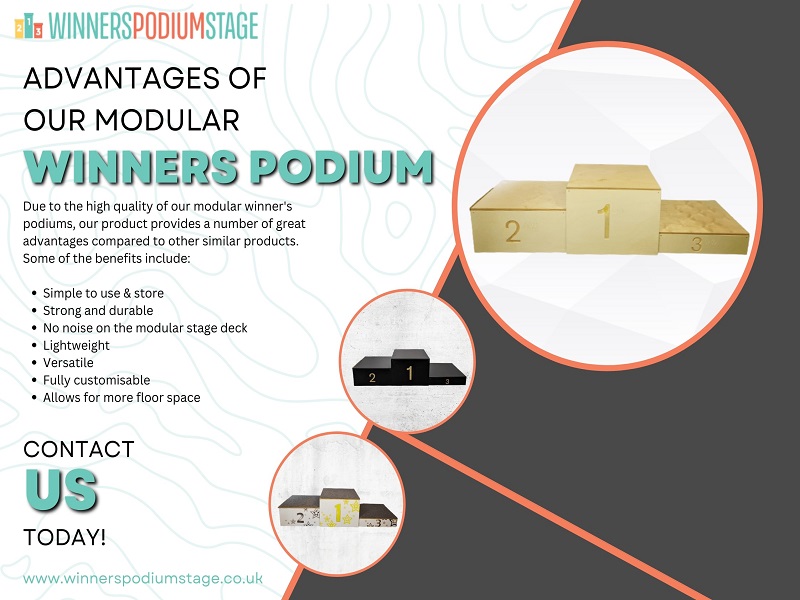 There are a lot of benefits to choosing our well-designed podiums over other options.
Simple to Use and Store
Each podium has three core pieces, which can be taken apart easily. This allows incredibly easy storage when space is at a premium, saving you from searching for suitable storage space.
Strong and Durable
We have constructed our winners' podiums from strong materials, providing better durability and portability than most other options. We guarantee against faults in materials, manufacture, and workmanship for ten years from delivery. We have supplied our versatile and lightweight podium designs to many companies and organisations across the UK, for example, local authorities, councils, theatres, schools and hotels, across the UK and internationally.
Lightweight
Our unique design makes each podium lightweight and durable, providing a perfect balance that does not sacrifice any overall quality.
Versatile
The versatility of our winners' podium systems in Greater Manchester means you can use each winner's podium or pedestal however you like. They can be integrated into our other stage and podium options, either as a set of modules or a standalone addition.
Customer Service
On delivery, our experts can ensure you understand how to use our pedestal systems well. We can show you how to connect modules on different vectors and customise your winner's podium on the fly. Our team is incredibly experienced in the pedestal niche and can show you the finer details of how our modular system works.
Care & Maintenance Recommendations
The podiums should be washed and cleaned after each event with a damp cloth and mild soapy water (ensure the cleaning agent contains no bleach).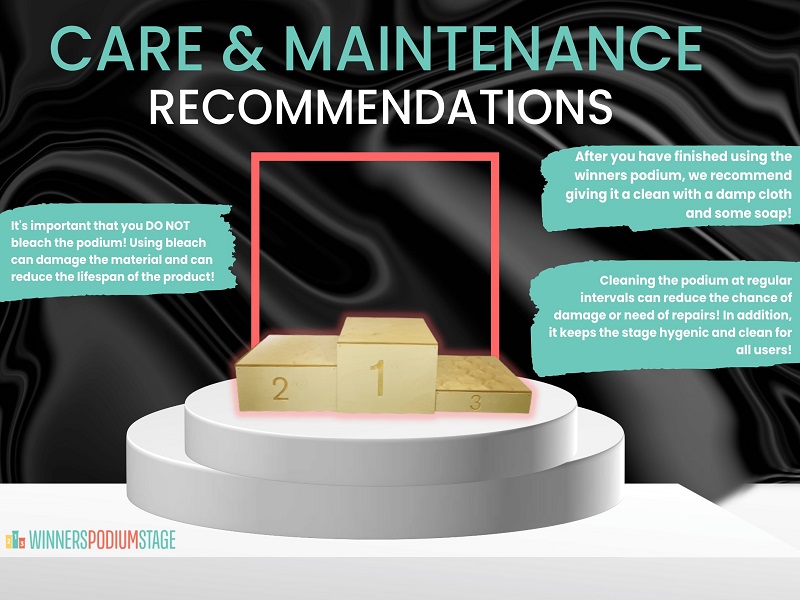 Do not fill the staging. Afterwards, clean the deck thoroughly and let it dry at the end of the day.
How Can I Store My Winners Podium?
Our standard staging sets come with spiral stack shuttles, which can hold up to 24 decks and frames.
Spiral Storage
With a diameter of 1.07m and a height of up to 2.20m, spiral storage shuttles are ideal for most storage solutions. If you need to transport your staging through narrow areas and doorways, you might want to consider an inline storage shuttle with a width of only 0.90m.
Winners Podium Design
Most manufacturers of winner's podiums in Greater Manchester have holes or bungs in the decks. Our unique location mechanism ensures the staging looks more aesthetically pleasing and improves our unrivalled safety features.
Frequently Asked Questions
How much weight can your winners podium handle?
A single Frame (@540mm height) is tested 'up to' 675kg – This is around ten grown adults on average.
What is the estimated delivery time of a winner podium?
Standard items can usually be delivered in 3-4 weeks. Bespoke items can usually be dispatched in 8 weeks.
Do you ship internationally?
We can ship our products around the world to most locations. Please get in touch today for more information in Greater Manchester.
How many positions are included in a winners' podium?
We can include up to the 8th position. The following places can be included:
1st
2nd
3rd
4th
5th
6th
7th
8th
Contact our team if you are looking for bespoke podiums in Greater Manchester that include numbers past the 8th position.
Get in Touch
We can offer a huge range of pedestal designs, allowing you to get a fully custom winners podium to suit your exact needs. Whether you are copying stock photos and illustrations or choosing something completely bespoke, we are here to provide it. We can keep a log of what you are looking for and any illustrations or stock photos that might be a useful guide to the bespoke system you need. Our experts are available to provide round-the clock-support, guiding you to the best pedestal for your specific design preferences. If you want to know more about what we can offer, get in touch and talk to our specialists. The sooner you contact us, the sooner we can get you the podium you need.
Find More Info
Contact us today for several great winners' podium stages in Greater Manchester.
What Others Say About Our Services
We absolutely love the service provided. Their approach is really friendly but professional. We went out to five different companies and found Winners Podium Stage to be value for money and their service was by far the best. Thank you for your really awesome work, we will definitely be returning!
Harvey Sharp
Greater Manchester
We have used Winners Podium Stage for many years as they are certainly the best in the UK. The attention to detail and professional setup is what makes this company our go-to company for all our work. I highly recommend the team for the immense work - we highly recommend them!
Alexander Mccarthy
Greater Manchester
For more information on winners podium stages, fill in the contact form below to receive a free quote today.